【Upgraded Version】NX101 PRO Version ,PIC25K80 Chip set V1.5 ELM327- Bluetooth Code Scanner Update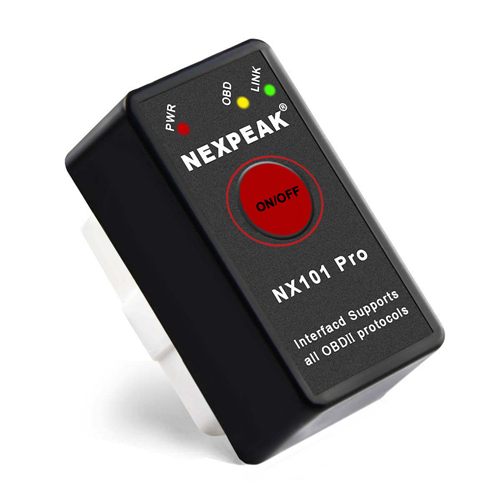 2018-01-20 04:52:50
Updated from NEXPEAK NX101, NX101 Pro version fixed the ATTP commands requirements, full protocols to ensure there's 100% no problems on communication.
A1: This is the 100% real V1.5 High Quality version, Support all OBD2 Vehicles, with full obdii protocols.
ELM327 V1.5 (Red)Features:
* Small size, compact structure. Plug and never unplug
* Stable wireless connection.
* No wires or batteries (adapter is powered by the 12V Vehicles battery)
* 30 Minutes without communication, it will automatically go to sleep mode.
* Ultra low cumsumption in sleep-mode, less than 10MA, you can leave our adapter plugged on cars all the time.
* Supports almost OBDII protocols, widest coverages.
* The adapter uses the fast communication mode and newest reliable ARM chips, up to 30 PID/S transmission speed.
* Our Scanner Red with switch has passed 48-hours continuously working without any problems, rest assured.
ELM327 V1.5 (Red) Function List:
1.Read diagnostic trouble codes, both generic and manufacturer specific
2.Clear trouble codes and turn off the MIL ("Check Engine" light)
3.Display current sensor data, including:
4.Engine RPM
5.Calculated Load Value
6.Coolant Temperature
7.Fuel System Status
8.Vehicle Speed
9.Short Term Fuel Trim
10.Long Term Fuel Trim
11.Intake Manifold Pressure
12.Timing Advance
13.Intake Air Temperature
14.Air Flow Rate
15.Absolute Throttle Position
16.Oxygen sensor voltages/associated short term fuel trims
17.Fuel System status
18.Fuel Pressure
19.Many others...
NEXPEAK®
Monday - Friday, 9am to 5pm PST
TEL: +86 755-2100 0230
E-mail: Support@nexpeaktech.com
Address: 228, Liangji Building, Donghuan 1st Rd, Longhua Dist, Shenzhen, Guangdong, P.R. China